We brought this little cutie home a couple of weeks ago.  She was 8 weeks old at the time.  A bit early but they were ready to adopt her out and she's eating well.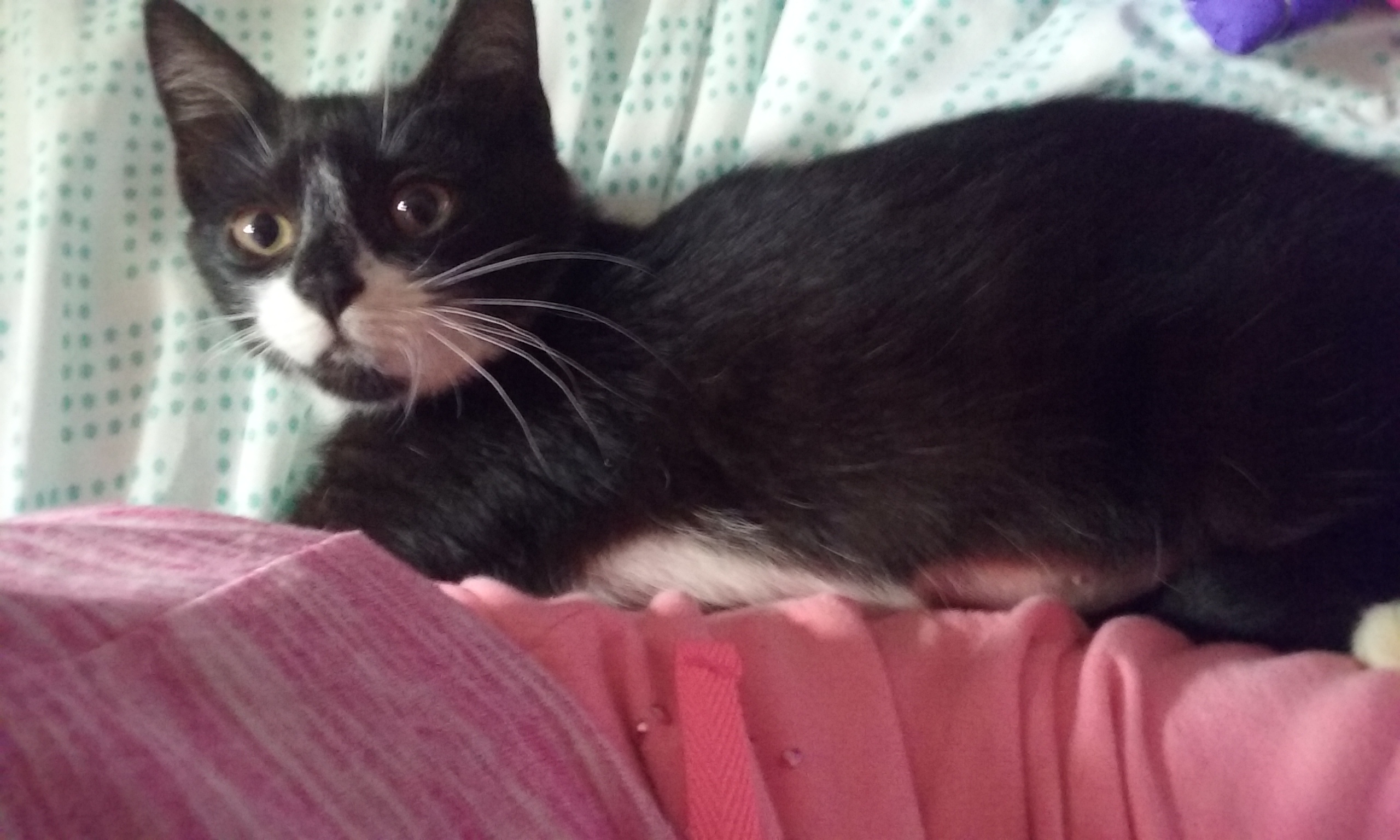 I sure do love a nice pussy.
Beautiful markings, IG!  What'd you name her?
Her name at the pound was Tuxy but we changed it to Pepper. My daughter is the chief pussy wrangler of our home and she is very opinionated about all pussy related things, so we let her make that decision.

Pepper also maps to "Dr Pepper" (which is cool because our other cat is named Sprite) and to "Peppa" (as in Peppa Pig).

We think she's got some Angora in her because some of the dark fur is dark brown instead of jet black. It's an unusual pattern for a tux; usually the black part doesn't come so far down below the eyes. But she's got a cute white mouth/chin and cute white mittens and adorable little black squishbeans on her paws instead of pink ones. But the photo doesn't do justice to how *tiny* she is.

Very cute - and you're daughter's right....Pepper is much better than Tuxy, imho.  :-)
How many lbs is she?
I don't know her weight, but this photo of the two of us together gives a better idea of how tiny she is!
*laughs*  You need to upgrade to an Aahz-size coffee cup so she can take a swim....
No thank you.  I like pussy, and I like coffee, but I do not like pussy in my coffee.
I had to take my cat to the vet to get something called a "sanitary trim", I now have a freshly shaved pussy.  
Speaking of pussy, Hugh Hefner has passed away, the founder of Cat Fancy magazine is gone.
Cat Fancy has been renamed to "Catster" recently. I wonder if Hef made that decision.